WU MING TEAM ORADEA
Wu Ming Team was formed in 1994. It started like a traditional Kung Fu team. Till 1997 the exercised style was the Eagle style. In 1995 the team organized a successful demonstration side by side with the Taekwondo team. In 1997, to revert in the competitional area, the team started to study competitional styles – Chang Quan, Nanquan and Santa. Until 1999 the team organized  and took part in different local competitions. The team fighters often were among the first three awarded prices at the National Taekwondo Competitions. In 1999 the relations with the FRAM were reestablished and the team started participating at National Wushu Championships. In 2001 'Wu Ming Oradea' sportsclub was founded. In the following years, the team's students succeeded obtaining important places in Taolu and Santa events. We'll mention only a few names of those numerous practitioners who have trained in our team: Bome, Tigris, Sandokan, Janos, Micle Radu, Suvita, Calu', Emil, Vlad Sturz, Rebeca, Leo Gavris, Ioane, Bujor, Flaviu, Balogh Bobi, Koteles Laszlo, Laura Ruszkai, Duta Liviu, Opre Robi, Adi, Cristi Tautu.
The absence of sponsors and the lack of money made difficult the team's activity. In fact, in all these years, the team supported  in amount of 50-50 percent all its dues. The instructor Kovacs Geza and his wife – Kovacs Adina, who have been practicing Kung Fu since 1990, besides training they studied and gained professions  through which they contributed to finance the team for over 12 years (he graduated the Law Highschool in Cluj and she is a dentist).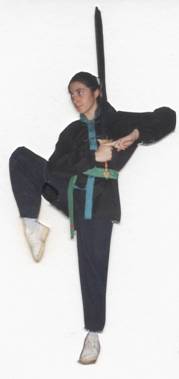 In real life, in Romania, lots of enthusiast teams of martial arts stopped  their activities because of the money. It is an aspect of our endless economic transition in our country. Some systems survived 'diluting' the teaching level. In 2-3 years of practice a black belt can be gained. Great Championships (even world championships) are organized only with the participation of a few local and zone teams.
In Wu Ming Kung Fu team it was decided to keep on training hard despite all the difficulties.