THE TEACHER
Kovacs Geza started the study of martial arts in 1983 at sensei Boldizsar Janos in Oradea. He had studied 3 years of Jiu Jitsu and Aikido, where he obtained the first level grades.
In 1986 he joined shifu Iancu's team. In 1990 he took part in the foundation meeting of FRAM, as one of Oradea's team representatives.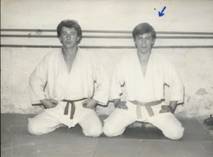 In 1990 he gained the title of instructor and started coaching his first team. He became the instructor of a Hungarian Martial Arts Federation, where he started to work with two teams. In 1991 became the administration of the sport activity in shifu Iancu's organization.
Between 1994 and 1999 he performed individual study and led several Kung Fu teams.
In 1999 he established contact with shifu Benea and from that moment he went on with his activity under shifu Benea's coordination.
In 2003 he took part in a course of great professional interest led by shifu Benea.
In 2005 had the honor to participate at his first training session with Chinese masters.
In 2006 prepares to take part in a two- month training course in Wudang Mountains.
Kovacs Geza studied Chang Quan, Nan Quan, weapon handle, fighting – Santa, Eagle style, Hung Gar, elements of Shaolin and Wudang.
He obtained the grade of 3 Duan black belt in 2005.